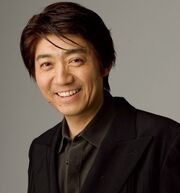 Shinichi Ishihara (born on May 26th, 1960 in Yamanashi Prefecture) is a Japanese singer and voice actor who provides voices for the Japanese narration of Thomas & Friends.
He is most famous for performing the theme songs for several anime series, such as "Guyver", "Kamen Rider Agito" and " "Kyuukyuu Sentai GoGo-V".
He also voiced King Louie from Disney's "The Jungle Book" and Hubie from "The Pebble and the Penguin".
Voices
Songs
"Welcome to the Steamworks, my friend!"

This article is a stub. You can help by expanding it.