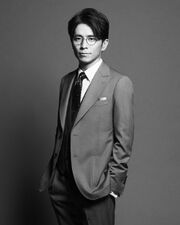 Shingo Fujimori (藤森慎,born 17 March 1983 in Nagano) is a Japanese comedian who provided voices in the Japanese version of Thomas and Friends.
He is best known as the straight man of the comedy duo "Oriental Radio" along with Atsuhiko Nakata. He also voiced Jonathan from "Hotel Transylvania".
Voices
Gallery
Trivia
Both he and Hideyuki Umezu voiced characters together from "Hotel Transylvania".
External links
Ad blocker interference detected!
Wikia is a free-to-use site that makes money from advertising. We have a modified experience for viewers using ad blockers

Wikia is not accessible if you've made further modifications. Remove the custom ad blocker rule(s) and the page will load as expected.