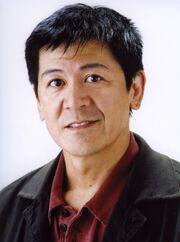 Shigenori Sōya (宗矢樹頼, born on July 11th) is a Japanese voice actor who provides voices for the Japanese dub of Thomas and Friends.
He is best known for voicing Hudson from "Gargoyles", Mika's father from "Doki Doki School Hours", Francesco Bernoulli from "Cars 2", Basil Hawkins and Mohji from "One Piece", Bob Miller from "Golgo 13", Garanth from "Guin Saga", Boreas from "Tenkai Knights", Virgilo Finito and Frankie Niagara from "Max Payne", Campbell from "Last Exile", and Roushi and Isobu from "Naruto: Shippuden".
Voices
"Welcome to the Steamworks, my friend!"

This article is a stub. You can help by expanding it.
Ad blocker interference detected!
Wikia is a free-to-use site that makes money from advertising. We have a modified experience for viewers using ad blockers

Wikia is not accessible if you've made further modifications. Remove the custom ad blocker rule(s) and the page will load as expected.