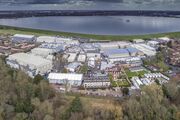 Shepperton Studios, is a studio complex based in London, United Kingdom. The second to twelfth seasons of Thomas & Friends were filmed prior to the full CGI switch-over in 2009. Numerous films and television series, including TUGS, have been filmed there over the years, including the James Bond, Beauty and the Beast (2017 live-action film), and Harry Potter series of films, which features King's Cross Station.
Ad blocker interference detected!
Wikia is a free-to-use site that makes money from advertising. We have a modified experience for viewers using ad blockers

Wikia is not accessible if you've made further modifications. Remove the custom ad blocker rule(s) and the page will load as expected.