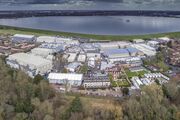 Shepperton Studios is a studio complex based in London. The second to twelfth seasons of Thomas & Friends were filmed there prior to the full CGI switch-over in 2009. Numerous other films and television series, including TUGS, have been filmed there over the years, including the Star Wars films, the James Bond films, Harry Potter and the Prisoner of Azkaban, Harry Potter and the Goblet of Fire and the 2017 live action remake of Disney's Beauty and the Beast.
"Welcome to the Steamworks, my friend!"

This article is a stub. You can help by expanding it.