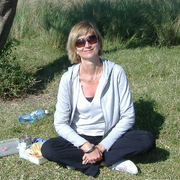 Sharon Fiona Miller (born September 1956) is an English director, producer, screenwriter and voice director. She was the script editor for Thomas & Friends from 2005 until 2007. In 2008, she became head writer for the series starting with Season 12. She has directed the voice cast since Misty Island Rescue. She served as creative producer from Hero of the Rails until Season 14 and worked alongside Jo Jordan during the same season and Misty Island Rescue. When Mattel bought the Thomas franchise in 2012, Miller stepped down as head writer in favour of Andrew Brenner. She no longer writes for the series, but remains in her role as voice director.
She has also written for "Bob the Builder: Ready, Steady, Build!", "Mike the Knight", and "Lily's Driftwood Bay".
Episodes Written
Specials
Creative Producer
Seasons
Specials
Trivia
External Link
Ad blocker interference detected!
Wikia is a free-to-use site that makes money from advertising. We have a modified experience for viewers using ad blockers

Wikia is not accessible if you've made further modifications. Remove the custom ad blocker rule(s) and the page will load as expected.