Shake Shake Bridge
Comments

0
5,266pages on
this wiki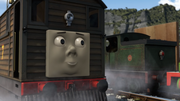 Shake Shake Bridge is a bridge that runs over The Logging Pond on Misty Island. Its name comes from the fact that, when an engine crosses it, it shakes violently.
Trivia
In real life, the bridge would not be able to hold up the weight of an engine.
The bridge's structure resembles the bridge inside Morgan's Mine.
Merchandise
Gallery