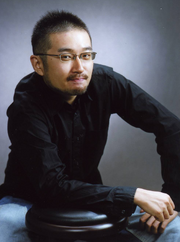 Shōto Kashii (樫井笙人, born on July 25th, 1968) is a Japanese voice actor who voices characters in the Japanese version of Thomas & Friends.
He is best known for voicing Yellow Monkey from the "Ape Escape" series, Marechiyo Omaeda and Rojuro Otoribashi from "Bleach", the Willie Brothers from Disney's "Home on the Range", the Boat Captain from the "God of War" series, Kaishu Katsu from "Intrigue in the Bakumatsu - Irohanihoheto", Dr. Kirk Langstrom and Tony Zucco from "The Batman", Munetaka Yagyu from "Tokyo Majin", Birdie from "Glass Fleet", Keyper from "Adventure Time", Tadataka Zengyou from "Gunparade", and Splinter from both the 2003 cartoon and 2007 film of "Teenage Mutant Ninja Turtles".
He is also a Third Class gasoline engine mechanic.
Voices
Songs
Trivia