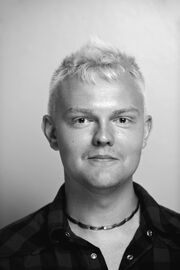 Samuel Harjanne (born in 1987) is a Finnish actor, voice actor and singer who voices characters in the Finnish dub of Thomas & Friends.
He is most famous for voicing Vince and Butch from Disney's "Recess", Ron Stoppable from "Kim Possible", Leonardo in the first two seasons of the 2003 "Teenage Mutant Ninja Turtles", Sokka from "Avatar: The Last Airbender", Bradley "Rad" White from "Transformers: Armada", Theodore from the "Alvin and the Chipmunks" films, Norman Price from "Fireman Sam", Tintin from Steven Spielberg's "Adventures of Tintin" film, Jackson Stewart from "Hannah Montana" and Nelson Muntz and Martin Prince in "The Simpsons Movie". He is also known for performing the Finnish theme songs to "Pokémon the Series: XY" and "Curious George".
Voices
Trivia
External links
Ad blocker interference detected!
Wikia is a free-to-use site that makes money from advertising. We have a modified experience for viewers using ad blockers

Wikia is not accessible if you've made further modifications. Remove the custom ad blocker rule(s) and the page will load as expected.