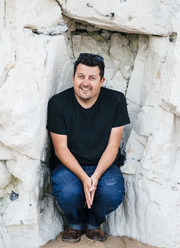 Sam Barlow was the story/script executive for Thomas & Friends from the eighth to sixteenth seasons. He wrote Mr. Arkwright and Mr. Perkins segments (as well as creating the latter) and was the supervising producer for The Great Discovery and the eleventh season at HiT Entertainment
Other credits include the "Silent Hill" video games and HiT Entertainment's other shows, "Bob the Builder" and "Angelina Ballerina". He left HiT Entertainment in 2010 after working on nine seasons and five specials of Thomas.
Segments Written
Mr. Arkwright
Mr Arkwright's Special Job
Driver Perkins
Mr Perkins' Party
Mr Perkins' Railway Lesson
Mr Perkins' Seaside
Mr Perkins' Fancy Dress
Mr Perkins' Painting
Mr Perkins' Trainee
Mr Perkins is Snowed In
Mr Perkins Clowns Around
Trivia
He, Laura Beaumont, Paul Larson, Helen Farrall, Lee Pressman, Simon Nicholson, Sharon Miller, Ross Hastings, Polly Churchill, James Mason, Rob Rackstraw, Rupert Degas, David Menkin, Lucy Montgomery, Gadi Levy, Dan Shatzberg, Holger Potzern, Simona Pahl, Steven Elford, Achim Schülke, Tobias Diakow, Jens Wendland, Marjolein Algera, Ernesto Lezama, Øyvind Borgemoen Lyse, Fabian Harloff, Dave Ingham, José Gilberto Vilchis, Nigel Chilvers, Lenora Hume, Miranda Larson, Stan Limburg, Lutz Harder, Francisco Colmenero, Steven Kynman, Knud Riepen, Eberhard Haar, Robert Kotulla, Ricardo Silva, Louise Kramskoy, Erik Schäffler, Douglas Welbat, Carlos Enrique Bonilla, Katja Brügger, Christian Rudolf, Jürgen Holdorf, Holger Mahlich, Robert Missler and TUGS voice actor Ian James Corlett have all worked on "Bob the Builder".
Both he and Jim Cummings work on "Goldie and Bear".
Sam recalls that he only watched CBBC growing up, so he never really was into Thomas since it was on CITV.
He, Albert Cohen, Marion Edwards, Ian McCue, Christopher Keenan, Erica Welch, Andrew Defty, Karen Davies, Thomas Holborow, Steven Kynman, Christopher Skala, Michelle Rodda, Jan Page, Lee Pressman, Helen Farrall, John Hasler, Ross Hastings, Laura Beaumont, Paul Larson, Miranda Larson, Karen Davidsen, Karen Barnes, Lenora Hume, Andrew Brenner, Dave Ingham, Simon Nicholson, Jocelyn Stevenson, Sharon Quick, Pete Atkin, Fiona Hardwick, Lorna Withrington, Finn Poncin, Lizzie Ennever, Prokhor Chekhovskoy, Oliver Böttcher, Oliver Davis, Łukasz Talik, Samuel Harjanne, Nir Ron, Stan Limburg, Mia Kadosh, Petri Hanttu, Simona Pahl, Gadi Levy, Robert Hartshorne, Arlyn Bantog, Tim Bain, Benjamin Morik, Achim Schülke and Ole Jacobsen have all worked on "Fireman Sam".
External Link