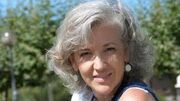 Salomé Larrucea is a Spanish actress who narrated Thomas & Friends in Spain between the eighth and nineteenth seasons, while Roberto Cuadrado did the voices for the characters between the eighth and twelfth seasons.
She is best known in Spain for being an announcer and voice actress for various TV shows, radio programmes, video games, and media productions since 2000.
"Welcome to the Steamworks, my friend!"

This article is a stub. You can help by expanding it.
Ad blocker interference detected!
Wikia is a free-to-use site that makes money from advertising. We have a modified experience for viewers using ad blockers

Wikia is not accessible if you've made further modifications. Remove the custom ad blocker rule(s) and the page will load as expected.