"I grew up on Thomas, I'm from England so Thomas the Tank Engine is a big thing for my family and me and I did not think in any of my dreams that I would be a part of it."
―Sabrina Frederick-Traub referring to her role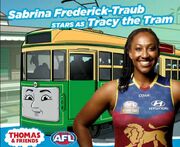 Sabrina Frederick-Traub (born on 14 November 1996 in Redhill, England, United Kingdom) is an English-Australian Football player and voice actress. She voiced Tracy in Thomas' Aussie Football Adventure.
She is a professional football player.
Voices
Online Videos
Trivia
She is the first person of African descent to be involved with Thomas & Friends.
External Links
"Welcome to the Steamworks, my friend!"

This article is a stub. You can help by expanding it.
Ad blocker interference detected!
Wikia is a free-to-use site that makes money from advertising. We have a modified experience for viewers using ad blockers

Wikia is not accessible if you've made further modifications. Remove the custom ad blocker rule(s) and the page will load as expected.