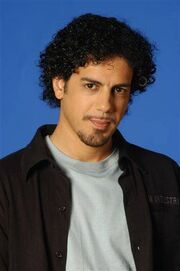 Saar Badishi (Hebrew: סער בדישי, born on May 2nd, 1971) is an Israeli voice actor and musician who provided voices in the Hebrew dub of Thomas and the Magic Railroad.
He is most famous for voicing Bugs Bunny in "The Looney Tunes Show", Gil and Heath Burns from "Monster High", Dave from "Scaredy Squirrel", various characters from "Littlest Pet Shop", Angelo from "Turbo", Rapahel from the original "Teenage Mutant Ninja Turtles" series, Rath from the "Ben 10" series, Tarrlok and Butakha from "The Legend of Korra", Jefferson Smith from the 2013 "Max Steel" series, Yaten from "Sailor Moon", Kanan Jarrus from "Star Wars Rebels", and is the current Hebrew voice of Winnie the Pooh.
Voices
Trivia
Ad blocker interference detected!
Wikia is a free-to-use site that makes money from advertising. We have a modified experience for viewers using ad blockers

Wikia is not accessible if you've made further modifications. Remove the custom ad blocker rule(s) and the page will load as expected.