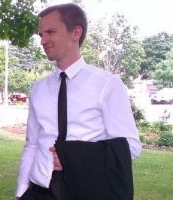 Ryan Quaglia is the post-production editor on Thomas & Friends at Jam Filled Toronto. He has worked on the series since King of the Railway.

He served as post-production assistant from King of the Railway to A Most Singular Engine. He is now post-production editor for Journey Beyond Sodor and the twenty-first season.
He worked at Arc Productions for over ten years as a post-production assistant and supervisor.
Trivia
He, Kallan Kagan, Adam Black, Jesse Lickman, Alan Kennedy, Jazmin Playtis, Tigh Walker, Rob Pringle, Jason Reeves, John Hickson, Marianne Culbert and Anna Wagner-Lopez have all worked on the series "Tarzan and Jane". There have also been several other voice actors that have worked on other Tarzan related projects:
He, Hadar Shachaf Ma'ayan, Adam Beck, Chiara Gioncardi, Jukka Voutilainen, Alan Kennedy, Rob Silvestri, Dave Peacock, John Hasler, Albert Cohen, Elina Iskoz, David Stoten, Dino Athanassiou, Edson Matus, Jarosław Boberek and Jesse Lickman have all worked on "Gnomeo and Juliet".
External links
"Welcome to the Steamworks, my friend!"

This article is a stub. You can help by expanding it.