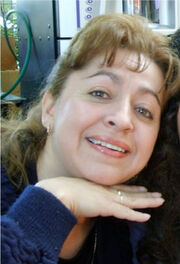 Ruth Toscano (born on October 28th, 1958) is a Mexican voice actress who provides voices in the Latin American narration of Thomas & Friends.
She is best known for voicing Andy's mom in the "Toy Story" films, Elizabeth from "Bill & Ted's Bogus Journey", Carole Hudson from "Glee", various characters from the "Sailor Moon" series, Margaret from "Adventure Show", Botanica from "Transformers: Beast Machines", Ruffnut from "Dragons: Riders of Berk", Mary Jane Watson from "Spider-Man: The Animated Series", Shmi Skywalker from "Star Wars: The Clone Wars", Mystique from "X-Men: The Animated Series", and Dolores Umbridge in "Harry Potter and the Order of the Phoenix".
Voices
Trivia
Ad blocker interference detected!
Wikia is a free-to-use site that makes money from advertising. We have a modified experience for viewers using ad blockers

Wikia is not accessible if you've made further modifications. Remove the custom ad blocker rule(s) and the page will load as expected.