"It's the ghost! Take me back! Take me back! Please!"
— Duncan, Duncan Gets Spooked, fifth season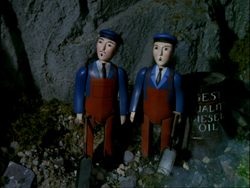 Rusty's Ghost Engine
Builder: Fletcher, Jennings and Co.
Configuration: 0-4-2
Rusty's Ghost Engine was a narrow gauge engine who supposedly worked on the Skarloey Railway.
Bio
According to the story told by Rusty, the engine was returning home one misty night when he lost control and fell into a ravine. No one was ever able to find him, but several workmen claim to have seen his ghost trying repeatedly to cross the ravine, only to disappear half way every time.
Rusty told Duncan his story after he teased Peter Sam for allowing his trucks to derail and fall into the ravine. Duncan disbelieved the story, but the next day Duncan's crew arranged things so that Duncan believed the engine was trying to cross the bridge at the same time as him, and quickly ran back.
In the magazine story, Creepy Cutting!, "The Ghost Engine", presumably the same one, was mentioned by Skarloey who suspected that he was haunting Echo Pass.
Basis
Rusty's Ghost Engine is based on the Talyllyn Railway's Talyllyn.
Appearances
The Ghost Engine also appeared in the sixth season song, Boo! Boo! Choo-Choo.
Rusty's Ghost Engine also appeared in the magazine story, Peep and Sleep.
Trivia
According to Models on TV, an online magazine, the model used was specially modified so that it could only travel a certain distance before a motor swung it off of the bridge.
Quotes
"A long time ago, a little engine was returning home. It was a misty moonlit night. As the engine crossed the old iron bridge, he suddenly lost control and plunged over the side into the swamps below. He was never found again. But many workmen will tell you, that when the moon is full, they have seen the little engine trying to get home, but he never reaches the other side."
- Rusty telling Peter Sam and Duncan about the Ghost Engine, fifth season
Gallery