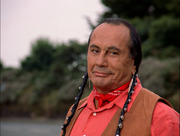 Russell Charles Means (born November 10th, 1939 - October 22nd, 2012) was a Native American activist and actor. He had notable careers in acting, politics, and music. He was also an activist for American Indians.
He passed away in October 2012 after a lengthy battle with esophageal cancer, a month before his seventy-third birthday. Britt Allcroft paid tribute to him on Facebook the day after his death.
Roles
Trivia
Means was good friends with former American narrator George Carlin.
Both he and Ryoichi Fukuzawa voiced Chief Powhatan from Disney's "Pocahontas" in their respective languages.
He, Jim Cummings and Kallan Kagan worked on the film "Pocahantas 2: Journey to a New World".
Gallery
External Link
Ad blocker interference detected!
Wikia is a free-to-use site that makes money from advertising. We have a modified experience for viewers using ad blockers

Wikia is not accessible if you've made further modifications. Remove the custom ad blocker rule(s) and the page will load as expected.