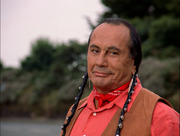 Russell Charles Means (born on November 10, 1939 in Pine Ridge Indian Reservation, South Dakota, USA - died on October 22, 2012 in Porcupine, South Dakota, USA) was a Native American Oglala Lakota activist for the rights of Native American people, libertarian political activist and actor. He had notable careers in acting, politics and music.
He passed away in October 2012 after a lengthy battle with esophageal cancer, a month before his seventy-third birthday. Britt Allcroft paid tribute to him on Facebook the day after his death.
Roles
Trivia
Means was good friends with former American narrator George Carlin.
Both he and Ryoichi Fukuzawa voiced Chief Powhatan from Disney's "Pocahontas" in their respective languages.
He, Jim Cummings and Kallan Kagan worked on the film "Pocahantas 2: Journey to a New World".
Gallery