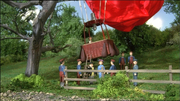 Rumblin Bridge is a station and bridge on the Skarloey Railway. It is located between Strawberry Grove and the Showgrounds.
Sir Topham and Lady Hatt were to attend the grand opening, but the hot air balloon they were travelling in ran out of hot air and they got stuck in a tree. Fortunately, Skarloey spotted them before the balloon crashed and rescued them.
It only appeared in the seventh season.
Merchandise
Ad blocker interference detected!
Wikia is a free-to-use site that makes money from advertising. We have a modified experience for viewers using ad blockers

Wikia is not accessible if you've made further modifications. Remove the custom ad blocker rule(s) and the page will load as expected.