Ad blocker interference detected!
Wikia is a free-to-use site that makes money from advertising. We have a modified experience for viewers using ad blockers

Wikia is not accessible if you've made further modifications. Remove the custom ad blocker rule(s) and the page will load as expected.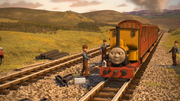 Rules and Regulations is a Classic Series song. It was first featured on Thomas and the Best-kept Station Competition and then was later released on Thomas' Train Yard Tracks, but the model series music video was never released. On January 6th, 2016, it was released as a CGI Series music video for Thomas' YouTube World Tour.
Lyrics
As you go from day to day
Looking for a better way
And you think you've got it all under control
So you bend the rules a bit
As you try to make things fit
But you know you should be doing as you're told
Although sometimes you'll find it so hard
And the wrong way may seem easier
It doesn't matter who you are
Obey the rules and you'll go far
We all live by rules and regulations
Rules and regulations now
Isn't it a bore, isn't it a chore
Sometimes it's so hard remembering all those
Strict rules, codes, laws, all those stipulations
Rules and regulations now
But without those rules and regulations
Where would we be now
So you see you have to try and do the right thing every time
If you do, then you will come to the conclusion
That there is right and there is wrong
And the rules help you along
And they're really only there for your protection
Although sometimes you'll find it so hard
And the wrong way may seem easier
It doesn't matter who you are
Obey the rules and you'll go far
We all live by rules and regulations
Rules and regulations now
Isn't it a bore, isn't it a chore
Sometimes it's so hard remembering all those
Strict rules, codes, laws, all those stipulations
Rules and regulations now
But without those rules and regulations
Where would we be now
We all live by rules and regulations
Rules and regulations now
Isn't it a bore, isn't it a chore
Sometimes it's so hard remembering all those
Strict rules, codes, laws, all those stipulations
Rules and regulations now
But without those rules and regulations
Where would we be now!
(letters in bold were not in the music video)
Characters
Episodes
Trivia
In Other Languages
| Language | Name | Meaning |
| --- | --- | --- |
| Japanese | きそくをまもって | Observe the Rules |
Home Media Releases
CDS
Gallery
Music Video