Ad blocker interference detected!
Wikia is a free-to-use site that makes money from advertising. We have a modified experience for viewers using ad blockers

Wikia is not accessible if you've made further modifications. Remove the custom ad blocker rule(s) and the page will load as expected.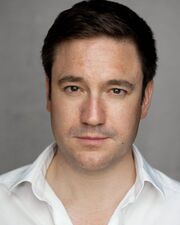 Rufus Jones (born in London, England, UK on May 17, 1975) is an English actor who joined the voice cast in The Great Race.
He has appeared in a number of British television shows including "Hunderby", "Marple", "The Casual Vacancy", "Extras", and "The Lead Balloon". He has also provided voices for a few video games, such as "Fable III", "Killzone", and "Fable Chronicles", as well as providing voiceovers for a few commercials.
Voices
UK/US
Filmography
Films

Honorable Men (2004)
Secret Smile (2005)
Losing It (2006)
Under One Roof (2007)
Cut and Paste (2009)
Holy Flying Circus (2011)
Lapland (2011)
Gutpunch (2013)
Channel M (2014)
Paddington (2014)
Bugsplat! (2015)
Honeysuckle (2015)
Bill (2015)
Alpha Beta (2015)

Television

White Teeth (2002)
Messiah: The Promise (2004)
My Family (2004-2006)
According to Bex (2005)
ShakespeaRe-Told (2005)
Extras (2006)
Comedy Lab (2006-2010)
Lead Balloon (2007)
The Green Green Grass (2007)
Sold (2007)
Thank God You're Here (2008)
Love Soup (2008)
Doctors (2008)
Midsomer Murders (2008)
Crooked House (2008)
Peep Show (2009)
Pete Versus Life (2010)
Dani's House (2010)
Mongrels (2010-2011)
Rock & Chips (2011)
Peeder Jigson's Video Diary (2011)
BBC Proms (2011)
The Increasingly Poor Decisions of Todd Margaret (2012)
Pixelface (2012)
Fresh Meat (2012)
Hunderby (2012-2015)
Common Ground (2013)
Bob Servant Independent (2013)
The Chaos (2013)
The Wright Way (2013)
Agatha Christie's Marple (2013)
The Wrong Mans (2013)
Toast of London (2013)
Episodes (2014)
Edge of Heaven (2014)
Trying Again (2014)
House of Fools (2014-2015)
W1A (2014-2015)
The Casual Vacancy (2015)
Up the Women (2015)
Mid Morning Matters with Alan Partridge (2016)
Stag (2016)
Camping (2016)
Thomas & Friends (2016-present)

Games

Killzone 2 (2009)
Xenoblade Chronicles (2010)
Fable III (2010)
Killzone 3 (2011)
Warhammer 40,000: Space Marine (2011)
Total War: Rome II (2013)
Super Smash Bros. For Nintendo 3DS (2014)
Super Smash Bros. for Wii U (2014)
Trivia
External Links