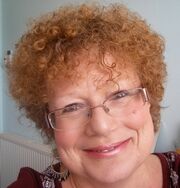 Ronne Randall is an American author who wrote The Story of Thomas the Tank Engine and A Visit to London for Thomas the Tank Engine for Egmont Publishing. She worked as editor-in-chief at Golden Books in New York until 1985 when she moved to the UK and worked for Ladybird Books for eight years. She is now a freelance author and editor who has written over one-hundred-and-thirty books on both sides of the Atlantic. She currently resides in Northamptonshire, England.
"Welcome to the Steamworks, my friend!"

This article is a stub. You can help by expanding it.