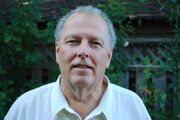 Ron Wisman is an American film editor. He was the editor for Thomas and the Magic Railroad.
Trivia
He and Paul Whitehead both worked on the film "Rugged Gold". Shining Time Station actor Ari Magder also starred in the movie.
He and Whitehead also worked together on the films, "The Great Elephant Escape" and "A Holiday to Remember".
Both he and Phil Fehrle worked on the film, "The Little Kidnappers".
Both he and Ron Wisman, Jr. worked on the films, "Danger Beneath the Sea", "Anne of Green Gabies" and "On Strike for Christmas".
He, Whitehead and Wisman, Jr. all worked on "The Undertaker's Wedding".
"Welcome to the Steamworks, my friend!"

This article is a stub. You can help by expanding it.
Ad blocker interference detected!
Wikia is a free-to-use site that makes money from advertising. We have a modified experience for viewers using ad blockers

Wikia is not accessible if you've made further modifications. Remove the custom ad blocker rule(s) and the page will load as expected.