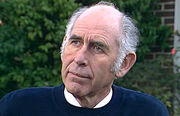 Ron Haddrick (Ronald Norman Haddrick MBE), born April 9th, 1929, is an Australian theatre, film, and voice actor. Haddrick was born in Adelaide, Australia, the only son of Olive May (née Gibson) and Alexander Norman Haddrick. He narrated some of the Christopher Awdry books illustrated by Ken Stott.
He is best known for narrating the TV miniseries "Cloudstreet", playing the QUE from "The Lost Islands", and appearing as both Gordon Macklin and Peter Moss from "Home and Away". He is also in 2014's "Locks of Love".
Books
Major awards and nominations
Nominated: Member of the Order of the British Empire, 1974
Won: Equity Lifetime Achievement Award, 2012
Nominated: Member of the Order of Australia, 2013
Ad blocker interference detected!
Wikia is a free-to-use site that makes money from advertising. We have a modified experience for viewers using ad blockers

Wikia is not accessible if you've made further modifications. Remove the custom ad blocker rule(s) and the page will load as expected.