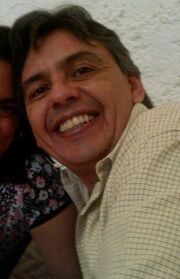 Rolando de Castro (born 2 February 1966) is a Mexican voice actor who provides voices in the Latin American narration of Thomas & Friends.
He is best known for voicing Ryuk in the anime Death Note, Severus Snape in Harry Potter (the second and fourth film), among others.
Voices
Trivia
Both he and Hiroshi Iwasaki voiced Uncle Ruckus from "The Boondocks" in their respective languages.
He, Geneviève Déry, Robert Wilfort, Claes Ljungmark and Leyla Rangel have all worked on "Harry Potter and the Goblet of Fire".

Ruth Toscano, Nathan Clarke, Simon Fisher-Becker, César Izaguirre, César Árias, Katsuji Mori, Yigal Mizrachi, Hideyuki Umezu, José Luis Orozco, Jesse Grimm, Aryeh Cherner, Zuzanna Galia, Ángel Amorós, Tokuyoshi Kawashima, Octavio Rojas, Scott Maurstad, John Hurt, Humberto Vélez, Jorge Santos, Irwin Daayán, Masashi Ebara, Blas García, Dov Reiser, Albert Cohen, Hadar Shachaf Ma'ayan, Zvika Schwartzberg, Jamie Campbell Bower, Thomas Fritsch, Norma Iturbe, Rob Rackstraw and Timothy Bateson have also starred in the "Harry Potter" films. Angela Kyriacou and Eddie Redmayne also had roles in it's prequel "Fantastic Beasts and Where To Find Them".
"Welcome to the Steamworks, my friend!"

This article is a stub. You can help by expanding it.