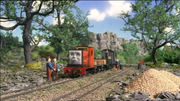 The Rocky Ridge Line is a rail line on the Skarloey Railway located west of Lakeside, continuing to Tea Room Station. The line begins at a junction on the loop line at Lakeside. Rheneas once ran along here by mistake while it was being mended.
It was only mentioned by name in the seventh season episode, Rheneas and the Roller Coaster, although the sets used for the tracks along the line were used in other episodes.
"Welcome to the Steamworks, my friend!"

This article is a stub. You can help by expanding it.
Ad blocker interference detected!
Wikia is a free-to-use site that makes money from advertising. We have a modified experience for viewers using ad blockers

Wikia is not accessible if you've made further modifications. Remove the custom ad blocker rule(s) and the page will load as expected.