Rocky
Talk

1
4,370pages on
this wiki
"New-fangled nonsense!"
— Edward and Gordon, Edward Strikes Out, tenth season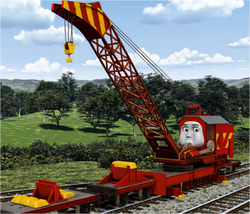 Rocky
Rocky is a large breakdown crane who is part of the Sodor Rescue Team.
When Rocky was new to Sodor, Gordon and Edward were skeptical about his abilities, noting that Harvey could travel under his own power. Later, Edward carelessly left the docks before his cargo was properly secured, causing pipes to spill onto the Main Line. Edward was adamant that Harvey clear up the line, but the engine was too small to finish it quickly and as a result, Gordon crashed into the poles. Edward returned to Brendam to pick up Rocky, who cleared the line and brought Gordon back to the rails.
Since this incident, Rocky has become an invaluable asset to the railway. He is frequently called upon to lift loads and help out after accidents. He currently works at the Sodor Search and Rescue Centre.
Rocky likes to lift heavy objects such as engines, coaches, and trucks. He is a friendly crane and helps the engines when there is an accident.
Rocky is a Ransomes and Rapier 45-ton steam crane, built around 1945.
Rocky is painted a dull red colour with yellow hazard stripes.
Appearances
Edit
Voice Actors
Edit
One of Rocky's television series models is currently on display in Canada at Nitrogen Studios.
Rocky does not have windows on the front of his cab, making it difficult for the operator to see what is happening.
Merchandise
Edit
Merchandise Gallery
Edit