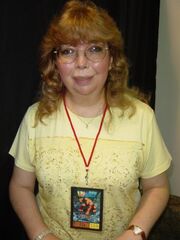 Rocío Garcel (born September 18th, 1948) is a Mexican voice actress who provides voices in the Latin American narration of Thomas & Friends.
She is best known for voicing Bulma in the "Dragon Ball" series, Dil Pickles and Susie Carmichael from "Rugrats", Grandmother Willow from Disney's "Pocahontas", Luna from "Sailor Moon", Demona from "Gargoyles", Grandmother Fa from "Mulan", Skeeter from "Muppet Babies", Katsuyu from "Naruto", the title character of the 1986 "Astroboy" series, Janine Melnitz from "The Real Ghostbusters", and Theda Funnie from "Doug". She is also a frequent dubbing voice of Sandra Bullock and Julia Roberts.
Voices
Trivia
Both she and Shinobu Adachi voiced Janine Melnitz from "The Real Ghostbusters" in their respective languages.
She, Alejandro Mayén, Mercedes Espinosa, Einat Glixman, Anna Sztejner, Eberhard Haar, Mayra Arellano, Loretta Santini, José Luis Orozco, Julia Pistor, Achim Schülke, Petri Hanttu, Angela Quast, Katja Brügger, Liliana Barba, Beata Wyrąbkiewicz, Mari Maurstad, Chie Kōjiro, Peter Weis and Greg Tiernan have all worked on "Rugrats".
"Welcome to the Steamworks, my friend!"

This article is a stub. You can help by expanding it.