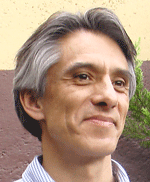 Roberto Mendiola (born on March 9th, 1960) is a Mexican voice actor who provides voices in the Latin American dub of Thomas and Friends.
He is best known for voicing Tail Terrier from Krypto the Superdog, Frylock in Aqua Teen Hunger Force, Victor in Corpse Bride, Lucario in Pokémon: Lucario and the Mystery of Mew, Heatblast in Ben 10, The villain Myotismon in Digimon and its sequel Digimon 02, Beau Rockley from "VeggieTales in the House", Miles Warren and Montana/Shocker from "The Spectacular Spider-Man", and Isshin Kurosaki in Bleach.
Voices
Trivia
"Welcome to the Steamworks, my friend!"

This article is a stub. You can help by expanding it.