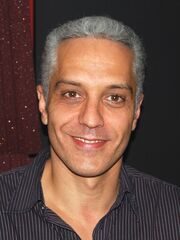 Roberto Encinas is a Spanish voice actor who voiced a character in The Great Race.
He has provided voices for numerous cartoons, animes and video games. Some of his roles include Ozai from "Avatar: The Last Airbender", Professor Oak from "Pokemon", Aokiji from "One Piece", Tyki Mikk from "D.Gray-man", Hank Pym from "The Avengers: Earth's Mightiest Heroes" and Bruce Wayne from "Batman: The Brave and the Bold".
Voices
"Welcome to the Steamworks, my friend!"

This article is a stub. You can help by expanding it.
Ad blocker interference detected!
Wikia is a free-to-use site that makes money from advertising. We have a modified experience for viewers using ad blockers

Wikia is not accessible if you've made further modifications. Remove the custom ad blocker rule(s) and the page will load as expected.