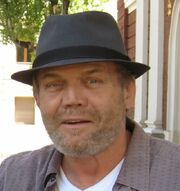 Roberto Cuadrado is a Spanish voice actor who did the character voices of Thomas the Tank Engine and Friends in Spain, while Salomé Larrucea narrated from Seasons 8-12. From the CGI Series onwards, he provides the voices of Sir Topham Hatt and several others.
He is best known for providing voices in the Spanish dub of popular video games and providing voices in documentaries like "Last Days of Michael Jackson" and a few others.
Voices
External links
"Welcome to the Steamworks, my friend!"

This article is a stub. You can help by expanding it.
Ad blocker interference detected!
Wikia is a free-to-use site that makes money from advertising. We have a modified experience for viewers using ad blockers

Wikia is not accessible if you've made further modifications. Remove the custom ad blocker rule(s) and the page will load as expected.