Ad blocker interference detected!
Wikia is a free-to-use site that makes money from advertising. We have a modified experience for viewers using ad blockers

Wikia is not accessible if you've made further modifications. Remove the custom ad blocker rule(s) and the page will load as expected.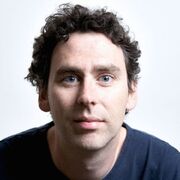 Robert "Rob" Wilfort (born in Porthcawl, Wales, UK, April 20th, 1977) is a Welsh actor who joined the cast of Thomas & Friends in the eighteenth season.
Robert has made numerous guest appearances on British television shows such as "Coronation Street", "Gavin and Stacey", and "White Van Man". He has also appeared in several films including "Harry Potter and the Goblet of Fire", "The Life and Death of Peter Sellers", and "The Libertine". He recently became well known for playing Bob Cratchit in the popular BBC drama "Dickensian".
Voices
UK/US
Filmography
Films

Murder Most Horrid (1999)
The Blonde Bombshell (1999)
All or Nothing (2002)
The Commander (2003)
Lucky Jim (2003)
The Life and Death of Peter Sellers (2004)
The Libertine (2004)
Friends & Crocodiles (2005)
Harry Potter and the Goblet of Fire (2005)
Raging (2007)
Me and Orson Welles (2008)
D.O.A (2010)
8 Minutes Idle (2012)

Television

High Hopes: Saving Private Ryan (1999)
Holby City (2002-2005)
Grass (2003)
The Bill (2003)
Comedy Lab (2004)
Heartbeat (2004)
Coronation Street (2005-2007)
Brief Encounters (2006)
Pulling (2006)
Skins (2007)
Gavin & Stacey (2007-2010)
M.I.High (2008)
Beautiful People (2008)
Doctors (2009-2012)
Casualty (2009-2013)
The Persuasionists (2010)
Ashes to Ashes (2010)
Campus (2011)
White Van Man (2012)
Love Matters (2013)
Thomas & Friends (2015-present)
Dickensian (2015)
Trivia
Gallery
External links