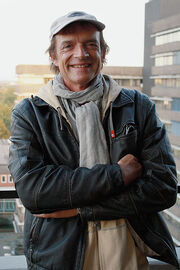 Robert Missler (born 1 April 1958 in Berlin, Germany, died on 7 September 2017) was a German actor and voice artist who provides voices for the German dub of Thomas & Friends.
He has worked as a musician, presenter, and radio personality. He was known to be a very versatile voice actor and has appeared in multiple shows.
He was also the official voiceover for Grover from "Sesame Street", James Wilson from "House M.D", HK-47 from "Star Wars: Knights of the Old Republic", and Ray from Disney's "The Princess and the Frog".
On the 21st September 2017, is was conformed that he passed away two weeks earlier due to an illness.
Voices
Trivia
Ad blocker interference detected!
Wikia is a free-to-use site that makes money from advertising. We have a modified experience for viewers using ad blockers

Wikia is not accessible if you've made further modifications. Remove the custom ad blocker rule(s) and the page will load as expected.