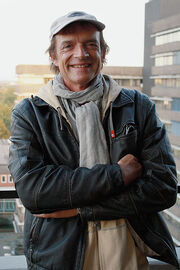 Robert Missler (born 1 April 1958 in Berlin, Germany) is a German actor and voice artist who provides voices for the German dub of Thomas & Friends.
He has worked as a musician, presenter, and radio personality. He is known to be a very versatile voice actor and has appeared in multiple shows.
He is also the official voiceover for Grover from "Sesame Street", James Wilson from "House M.D", HK-47 from "Star Wars: Knights of the Old Republic", and Ray from Disney's "The Princess and the Frog".
Voices
Trivia
Ad blocker interference detected!
Wikia is a free-to-use site that makes money from advertising. We have a modified experience for viewers using ad blockers

Wikia is not accessible if you've made further modifications. Remove the custom ad blocker rule(s) and the page will load as expected.