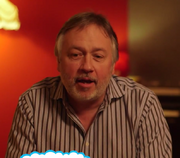 Robert Hartshorne (born 10 June 1956 in London, England, UK) is a British composer and singer who took over as composer for Thomas & Friends after the retirement of Mike O'Donnell and Junior Campbell.
He has composed music for every season from the eighth season until the nineteenth season, as well as composing music for Calling All Engines!, Jack and the Sodor Construction Company, every special from 2008 to 2015, and recomposing the American narration of the seventh season. From Day of the Diesels on, his son Peter helped compose the music with him. He also took over composing the songs following Ed Welch's departure.
He was also commissioned to write a song called "Stronger As One" in honour of Queen Elizabeth II's Diamond Jubilee, sung by Laura Wright.
Robert and his son Peter also often work on the music for various Andrew Marr documentaries, including the recently released documentary series, "Andrew Marr's History of the World".
He has also composed a song for one of HiT Entertainment's other brands, "Fireman Sam".
After Sodor's Legend of the Lost Treasure, Robert and Peter's contracts with HiT Entertainment had ended and the executives wanted to use someone new. Chris Renshaw took their place as the main composer from Bubbling Boilers onwards, while Oliver Davis took over composing the songs.
Songs Performed
See also
Music Videos - list of Thomas & Friends compositions by Robert Hartshorne.
Trivia
He, Albert Cohen, Marion Edwards, Ian McCue, Christopher Keenan, Erica Welch, Andrew Defty, Karen Davies, Thomas Holborow, Steven Kynman, Christopher Skala, Michelle Rodda, Jan Page, Lee Pressman, Helen Farrall, John Hasler, Ross Hastings, Laura Beaumont, Paul Larson, Miranda Larson, Karen Davidsen, Karen Barnes, Lenora Hume, Sam Barlow, Andrew Brenner, Dave Ingham, Simon Nicholson, Jocelyn Stevenson, Sharon Quick, Pete Atkin, Fiona Hardwick, Lorna Withrington, Finn Poncin, Lizzie Ennever, Prokhor Chekhovskoy, Oliver Böttcher, Oliver Davis, Łukasz Talik, Samuel Harjanne, Nir Ron, Stan Limburg, Mia Kadosh, Petri Hanttu, Simona Pahl, Gadi Levy, Arlyn Bantog, Tim Bain, Benjamin Morik, Achim Schülke and Ole Jacobsen have all worked on "Fireman Sam".
External Link
Gallery