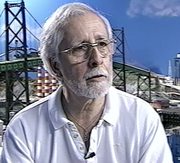 Robert D. Cardona (born in Los Angelis, California, USA on 7 March 1930) is an American-born Canadian animator, director, producer, production manager and writer.
He had his main success is England. His most recognized work was with his longest partner, David Mitton. He was the producer of the first two seasons of Thomas the Tank Engine and Friends and the co-creator, producer and a director for "TUGS". He worked on the British shows "Crime of Passion", "Emmerdale", "Fraud Squad", "The Flaxton Boys", "The Four Feathers", and "Thriller". He was the Co-CEO of Clearwater Features.
In 1990 he left Thomas to live in Canada. There he directed "Theodore Tugboat" and provided "TUGS" footage for the show "Salty's Lighthouse".
Awards and nominations
Nominated - British Academy of Film and Television Arts - Best Animated Film for "Thomas The Tank Engine & Friends", 1985, shared with Britt Allcroft and David Mitton; 1987 shared with David Mitton.
Trivia
"Welcome to the Steamworks, my friend!"

This article is a stub. You can help by expanding it.
Ad blocker interference detected!
Wikia is a free-to-use site that makes money from advertising. We have a modified experience for viewers using ad blockers

Wikia is not accessible if you've made further modifications. Remove the custom ad blocker rule(s) and the page will load as expected.