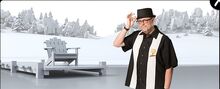 Robert "Robbie" Anderson produced the seventeenth and eighteenth seasons of Thomas and Friends for Arc Productions. He has been working in the field of entertainment since he was sixteen in 1982 when he got his first paid job as a production assistant for the National Film Board of Canada. Since then, he has been a production manager or a producer on around seven-hundred episodes of broadcast films and television series. Brian Lynch produced King of the Railway for Arc Productions, but Robert Anderson produced Tale of the Brave and the last half of the eighteenth season alongside Lynch. He also produced The Great Race and the twentieth season.
Anderson left Arc Productions in November 2013 and joined DHX Media in the following month for a year. He returned to Arc Productions in July 2015.
Anderson is now a supervising producer.
External Link