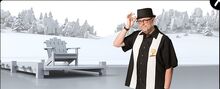 Robert "Robbie" Anderson was a producer for Thomas & Friends at Arc Productions. He produced the seventeenth and eighteenth seasons. Brian Lynch produced King of the Railway for Arc Productions and he produced Tale of the Brave and the last half of the eighteenth season alongside Lynch. He also produced the nineteenth season episodes, Goodbye Fat Controller, No Help At All, Thomas the Babysitter, Rocky Rescue and The Other Side of the Mountain, as well as The Great Race and half of the twentieth season. He produced a total of 64 episodes. More than any other producer at Arc.
Anderson left Arc Productions in November 2013 and joined DHX Media in the following month for a year. He returned to Arc Productions in July 2015.
Anderson is now a supervising producer at Jam Filled Toronto.
He has been working in the field of entertainment since he was sixteen in 1982 when he got his first paid job as a production assistant for the National Film Board of Canada. Since then, he has been a production manager or a producer on around seven-hundred episodes of broadcast films and television series.
Producer
Seasons
Specials
External Link
Ad blocker interference detected!
Wikia is a free-to-use site that makes money from advertising. We have a modified experience for viewers using ad blockers

Wikia is not accessible if you've made further modifications. Remove the custom ad blocker rule(s) and the page will load as expected.