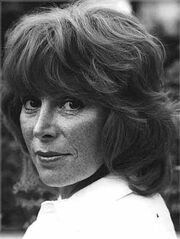 Rita Engelmann (born 1948) is a German actress and voice-over artist. She is best known for being the former voice of Mrs. Puff in the German dub of 'Spongebob Squarepants'.
She is known for appearing in various German television shows and films such as "The Confessions of a Girl", "Schwarzwaldfahrt aus Liebeskummer", and "Großstadtrevier". She is also known for dubbing actresses in German dubs of shows and films such as Gates McFadden in "Star Trek: The Next Generation" and the "Star Trek" films, Jennifer Coolidge in the "American Pie" films, Miranda Richardson in "Sleepy Hollow", and Raquel Welch in "Legally Blonde".
Voices
"Welcome to the Steamworks, my friend!"

This article is a stub. You can help by expanding it.