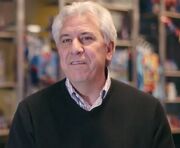 Rick Siggelkow is an American producer, director and writer. He was the co-creator of Shining Time Station along with Britt Allcroft. He and Allcroft also served as co-producers and co-executive producers for Shining Time Station.
He has also worked on "The Noddy Shop" [an American spinoff of Noddy made similar to Shining Time Station], "Ace Lightning", "Dinosapien" and "Little People". He appeared in the 70 Years of Friendship YouTube documentary in 2015.
Allcroft and Siggelkow are currently trying to get Shining Time Station onto DVD or back on television.
After Shining Time Station he went to work with BBC Americas Worldwide, where he worked from 1996 to 2008. Since 2014 he has worked for HiT Entertainment. He currently is a producer and director for "Little People" for HiT Entertainment.
Trivia
Gallery
External Link
"Welcome to the Steamworks, my friend!"

This article is a stub. You can help by expanding it.