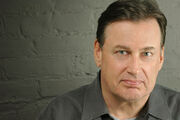 Richmond Hoxie (born July 21, 1946 in New York City, New York, USA) is an American actor who provides the narration for the iTunes audiobook releases. He has appeared in various shows such as "Crosby and L.A. Law" and has also appeared on Broadway.
Books Narrated
Filmography
Movies

Rollover (1981)
Still of the Night (1982)
Without a Trace (1983)
The Beniker Gang (1985)
Once Again (1987)
JFK (1991)
The Concierge (1993)
Six Degrees of Separation (1993)
Last Days of May (1998)
Dummy (2002)
Found Money (2003)
Slippery Slope (2006)
My Own Love Song (2010)
The Word (2013)
The Inquisition of Camilo Sanz (2013)
James McNeill Whistler and the Case for Beauty (2014)

TV

Dr Scorpion (1978)
All My Children (1983)
Sentimental Journey (1984)
Hometown (1985)
The Equalizer (1985)
Manhunt: Search for the Night Stalker (1989)
L.A. Law (1989)
Hunter (1989)
Christine Cromwell (1990)
Baby Talk (1991)
China Beach (1991)
New York Undercover (1998)
Cosby (2000)
Law & Order (1995-2002)
Law & Order: Criminal Intent (2004)
Law & Order: Special Victims Unit (2004-2006)
Boardwalk Empire (2013)
Shades of Blue (2017)

Video Games
External links
"Welcome to the Steamworks, my friend!"

This article is a stub. You can help by expanding it.