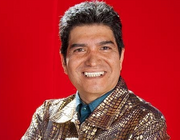 Ricardo Silva (born 7 February 1954) is a Mexican singer and actor who voices characters in the Mexican narration of Thomas & Friends.
He is best known for appearing in various television dramas such as "Amigas y rivales" and "Destilando Amor". He is also known for singing the Spanish theme song to "Dragon Ball Z", "InuYasha", and "Digimon".
Silva also voiced Cheese Sandwich from "My Little Pony: Friendship is Magic".
Voices
Trivia
Both he and David Menkin voiced Scoop from "Bob the Builder" in their respective languages.

Marc Seal, Laura Beaumont, Paul Larson, Helen Farrall, Lee Pressman, Simon Nicholson, Sharon Miller, Sam Barlow, Ross Hastings, Polly Churchill, James Mason, Rob Rackstraw, Rupert Degas, Lucy Montgomery, Gadi Levy, Dan Shatzberg, Holger Potzern, Simona Pahl, Steven Elford, Achim Schülke, Tobias Diakow, Jens Wendland, Marjolein Algera, Ernesto Lezama, Øyvind Borgemoen Lyse, Fabian Harloff, Dave Ingham, David Holt, José Gilberto Vilchis, Nigel Chilvers, Lenora Hume, Miranda Larson, Stan Limburg, Lutz Harder, Francisco Colmenero, Steven Kynman, Knud Riepen, Eberhard Haar, Robert Kotulla, Louise Kramskoy, Erik Schäffler, Douglas Welbat, Carlos Enrique Bonilla, Katja Brügger, Christian Rudolf, Jürgen Holdorf, Robert Missler, Holger Mahlich and Salty's Lighthouse voice actor Ian James Corlett have also worked on "Bob the Builder".

He, Nobuaki Kanemitsu, Ángel Amorós, Roberto Mendiola, Lupita Leal, Héctor Moreno, Jorge Teixeira, Yasuhiro Takato, Fabrice Trojani, Ewa Serwa, Gerald Schaale, Tony Marot, José Arenas, Yasunori Masutani, Taisto Oksanen, Taisuke Yamamoto, Ambrogio Colombo, Satoshi Taki, Yehonatan Magon, Masaharu Satō, Nir Ron, Gerardo Reyero, Junko Noda, Houko Kuwashima, Marie-Luise Schramm, Mireya Mendoza, Igor Cruz, Nanaho Katsuragi, Benjamín Rivera, Arturo Mercado Jr., Pedro D'Aguillón Jr., Tom Deininger, Hiroaki Hirata, Óscar Flores, Irwin Daayán, Yoram Yosefsberg, Carlos Hernández, Chie Kōjiro, Agnieszka Kunikowska, Manuel Campuzano, Dor Srugo, Bin Shimada and Talya Barkay have all worked on "Digimon".
He, Analiz Sánchez, Mikołaj Klimek, Héctor Moreno, Enrique Cervantes, Susana Moreno, Michał Podsiadło, Claudia Motta, Javier Olguín, Simen Sand, Klaudiusz Kaufmann, Justyna Bojczuk, Anna Gajewska, Carlos Hernández, Ewa Serwa, Loretta Santini, Irina Índigo, Zbigniew Konopka, Isabel Romo, Raúl Solo, Zuzanna Galia, Kim Seung-jun, Grzegorz Kwiecień, Jacek Król, Benedikte Kruse, Eduardo Fonseca, Annie Rojas, Sergio Morel, Elsa Covián, Julia Kołakowska-Bytner, Susa Saukko, Kenta Miyake, Joanna Pach-Żbikowska, Moisés Iván Mora, Mia Kadosh, Masashi Ebara, Igor Cruz, Norma Iturbe, Petri Hanttu, Hiroshi Iwasaki, Anna Apostolakis, Tiril Heide-Steen, Przemysław Stippa, Markus Bäckman, Leszek Zduń, Janusz Wituch, Talya Barkay, Edson Matus, Paweł Szczesny, Gerald Schaale, Leyla Rangel, Piotr Bajtlik and Tesshō Genda have all starred in "My Little Pony: Friendship is Magic".
External links