"Listen to me. There is nothing wrong with that tunnel. You stuck in it, because you tried to do rock and roll. Tunnels are not dance floors, and you are not a pop star!"
―Sir Topham Hatt scolding Duncan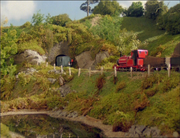 Rheneas Tunnel is a short, but curved tunnel where Duncan got stuck trying to do Rock 'n' Roll. Peter Sam also lost his funnel from a hanging icicle here. North of this tunnel was the incident when Skarloey was stuck in a landslide back in 1867. As the name suggests, it is located near the station, Rheneas. It is the Skarloey Railway's only tunnel.
The tunnel appeared in the Railway Series books The Little Old Engine and Gallant Old Engine as well as the fourth season of the television series.
---
* RWS only | ** T&F only
Locomotives

Steam

Skarloey | Rheneas | Sir Handel | Peter Sam | Duncan | Duke | Ivo Hugh* | Bertram** | Mighty Mac** | Freddie** | Luke**

Diesel

Rusty | Fred*

Other

Mark V

Former

The Ghost Engine** | Proteus**

Rolling Stock

Coaches

Agnes, Ruth, Lucy and Jemima* | Gertrude and Millicent* | Ada, Jane and Mabel* | Saloon Coaches* | Coaches** | Refreshment Coach**

Trucks

Trucks | Slate Trucks | Gunpowder Vans** | Quarry Trucks** | Flatbeds* | Conflats | Well Wagons** | Slab Wagons** | V Tipper Trucks*

Other

Beatrice* | Cora* | Brake Vans | SR Breakdown Train** | The "Weedkiller"* | Art Transporters* | The Sleigh Wagon*
Non-Rail Vehicles
Madge** | Colin** | Merrick** | Owen**
People
The Owner (Sir Handel Brown I, Sir Handel Brown II)* | The Thin Controller (Mr. Mack, Mr. Robert Sam, Mr. Peter Sam, Mr. Roger Sam)* | Mr. Hugh (David Hugh I, Ivo Hugh, David Hugh II)* | Sir Topham Hatt** | Mr. Percival**
Locations
Crovan's Gate (Engine Sheds) | Cros-ny-Cuirn | Glennock | Rheneas (Viaduct, Tunnel) | Lakeside | Skarloey (Slate Quarry) | The Depot** | Bluebell Valley** | Valley View** | Sodor Castle** | Standard and Narrow Gauge Tunnel Runby** | Old Iron Bridge** | Tea Room Station** | Mountain Village Station** | Blue Mountain Quarry** | Strawberry Grove** | Rumblin Bridge** | Elephant Park** | Boulder Quarry** | The Old Wooden Bridge** | Ulfstead Castle** | Sodor Steamworks** | The Transfer Yards** | The Wharf** | Skarloey Coal Yard** | Green Hills Junction** | The Old Trestle Bridge | Culdee Fell (Caves, Hill)** | Middle Station | Vicarstown Goods Yard
Ad blocker interference detected!
Wikia is a free-to-use site that makes money from advertising. We have a modified experience for viewers using ad blockers

Wikia is not accessible if you've made further modifications. Remove the custom ad blocker rule(s) and the page will load as expected.