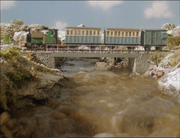 The Rheneas Bridge is a short river bridge on the Skarloey Railway. It is located between Glennock and the Rheneas Tunnel. The Hawin Doorey river runs underneath the bridge.
Due to high winds and rain, the bridge was once damaged and blown away. Rusty had brought some workmen to repair the bridge. As days went by, and the weather became colder and frostier. Finally the bridge was repaired.
Gallery
Ad blocker interference detected!
Wikia is a free-to-use site that makes money from advertising. We have a modified experience for viewers using ad blockers

Wikia is not accessible if you've made further modifications. Remove the custom ad blocker rule(s) and the page will load as expected.