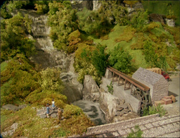 Rheneas is a station and waterfall on the Skarloey Railway. Translated from the Sudric language, it means "Divided Waterfall". There is a two-berth shed here.
In the Railway Series, the passengers were furious at Duncan's delay in "Gallant Old Engine", and in "Great Little Engines" when Sir Handel becomes impatient waiting for the guard leaves him on the platform. Luckily, a passenger presses Beatrice's emergency buzzer and Sir Handel realises his mistake. Sir Handel collects the guard and races home.
In the television series, it first appeared in the fourth season and in other model seasons as stock footage.
Gallery