Ad blocker interference detected!
Wikia is a free-to-use site that makes money from advertising. We have a modified experience for viewers using ad blockers

Wikia is not accessible if you've made further modifications. Remove the custom ad blocker rule(s) and the page will load as expected.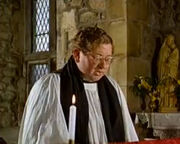 The Reverend Edwin "Teddy" Boston (August 20 1924 - April 1 1986) was the former Rector of the Parish of Cadeby in Leicestershire. He was a good friend of the Reverend W. Awdry and in the Railway Series was known as The Fat Clergyman.
Appearances in the Railway Series
The Reverend Teddy Boston made several appearances in the Railway Series books. His first was in Small Railway Engines visiting the small engines with the Reverend W. Awdry. He, the Reverend W. Awdry, and the Small Controller later went on a search for Duke in Duke the Lost Engine. He found Duke after falling through the roof of his shed.
Trivia
Reverend Teddy Boston owned a traction engine named "Fiery Elias", which later became the basis for Trevor, and a steam roller named "Thistledown", which later became the basis for George and Buster. Teddy also owned a narrow gauge locomotive named "Doll", which loosely became the basis for Jerry, and another locomotive named "Pixie".
Gallery