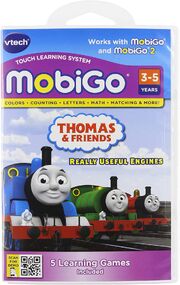 Really Useful Engines is a video game for Vtech's MobiGo and MobiGo2 system. It was only released in 2012.
The narration was provided by Michael Brandon.
Characters
Games
Sir Topham Hatt asks Thomas to get jobi wood from Misty Island. Help Thomas collect jobi wood logs from Ol' Wheezy. Then, help Thomas cross the Shake Shake Bridge. Finally help load the correct number of jobi wood logs. When you're done see what Sir Topham Hatt makes using the jobi wood!
Curriculum: Counting, Math
It's a very busy day at the Sodor Steamworks. Help Victor and Kevin tidy up the Sodor Steamworks by putting loose parts away and stacking heavy objects, After you finish cleaning up, fix the engines by replacing their missing parts.
Curriculum: Colors, Matching
Sir Topham Hatt needs Thomas to make some deliveries. First, listen to Sir Topham Hatt and choose the correct object to deliver. Then, help Thomas deliver the object, Along the way find and help Thomas' friends!
Curriculum: Objects, Classification
Cranky is hard at work. Help him find the correct crates to load and unload.
Curriculum: Letters
After a hard days' work, the engines rest at Tidmouth Sheds. Unlock engines using the badges you've earned in the other games. Look at all the engines you've collected, or play a fun game with them!
Curriculum: Memory
Ad blocker interference detected!
Wikia is a free-to-use site that makes money from advertising. We have a modified experience for viewers using ad blockers

Wikia is not accessible if you've made further modifications. Remove the custom ad blocker rule(s) and the page will load as expected.