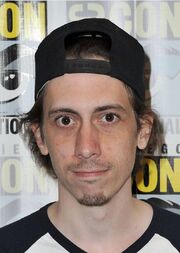 Rasmus Hardiker (born on 31 January 1985 in Sutton Coldfield, England) is a British actor. He joined the voice cast in the nineteenth season.
Other credits include "Saxondale", "Lead Balloon", "The Bill" and "Doctors". He also provides voices for "Thunderbirds Are Go" and "Danger Mouse".
Voices
UK/US
UK
Songs
Filmography
Films

A Waste of Shame: The Mystery of Shakespeare and His Sonnets (2005)
Starter for 10 (2006)
The Lift (2007)
I Want Candy (2007)
The Good Samaritan (2007)
Magicians (2007)
Christmas at the Riviera (2007)
The Beachcombers (2008)
Lecture 21 (2008)
Faintheart (2008)
Micro Men (2009)
Huge (2010)
Your Highness (2011)
Documental (2011)
Cockneys vs Zombies (2012)
Let's Play Nomad X (2013)
Capture the Flag (2015)
Sunset Dreams (2017)
The Little Vampire (2017)
Mary and the Witch's Flower (2017)

Television

The Rotters' Club (2005)
Afterlife (2005)
ShakespeaRe-Told (2005)
Funland (2005)
The Bill (2005)
Doctors (2006)
Saxondale (2006-2007)
Lead Balloon (2006-2011)
New Tricks (2007)
The Wrong Door (2008)
Groove High (2012)
Dude, That's My Ghost! (2013)
Privado (2013)
Black Mirror (2014)
Boyster (2014-2015)
Scream Street (2015-present)
Danger Mouse (2015-present)
Thunderbirds Are Go (2015-present)
Thomas & Friends (2015-present)
Digby Dragon (2016)
Floogals (2016-present)
Dennis and Gnasher: Unleashed (2017)
Trivia
He, David Menkin, Teresa Gallagher, William Hope, Bob Golding, Togo Igawa, Nick Ostler, Dave Peacock, Mark Huckerby, Gilan Shachaf, Saar Badishi and Yehonatan Magon have worked on "Thunderbirds Are Go". There have also been several other people that have worked on other parts of the Thunderbirds franchise:
He, Steven Kynman and Teresa Gallagher had roles in "More Stuff".
He, Mark Huckerby and Nick Ostler all work together on "Danger Mouse".
He, Gallagher, Rob Rackstraw, Golding and Keith Scott all voiced characters in "Dennis & Gnasher". Davey Moore additionally wrote for the show.
He, Jules de Jongh, Michael Carrington, Matt Porter, Jessica Kedward and Kirsty Peart all work on "Floogals".
He and Lucy Montgomery both have roles in "Digby Dragon".
He and Jim Howick both had roles in "Scream Street".
He, Gallagher, Golding, and de Jongh had roles in the anime series "Ronja, the Robber's Daughter" in the English dub.
He, Tracy-Ann Oberman and Michael Brandon all had roles on the show New Tricks.
He, Michael Angelis, Michael Brandon, Maggie Ollerenshaw, Nicola Stapleton and Andrew Sachs all had roles in "The Bill".
He, John Schwab and Kerry Shale all recently provided voices for "The LEGO Ninjago Movie" Video game.

They, along with de Jongh, have all lent their voices for "Ninjago" video games.

Both he and Gallagher voiced characters in "Mary and the Witch's Flower".
He and Rufus Jones voiced characters in the "Xenoblade Chronicles" series.
External Link