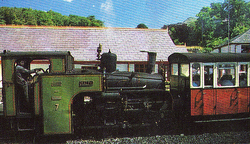 Ralph
Number: 7
Built: 1923
Withdrawn: 2015
Configuration: 0-4-2T
Ralph, previously Ralph Sadler, after the Snowdon Mountain Railway's consulting engineer, from 1964 to 1977, and Aylwin from 1977 until October 1978, is the seventh engine on the Snowdon Mountain Railway.
Bio
Alaric is based on Ralph. Ralph was manufactured by the Swiss Locomotive and Machine Works at Wintherthur, Switzerland in 1923.
As of 2015, Ralph has been withdrawn from service, his boiler has been scrapped, dismantled and stored off-site. It has been stated that it is very unlikely that the engine will be repaired and resume service, meaning it is very possible the locomotive may be scrapped.
Livery
Alaric was painted green with red lining.
Gallery