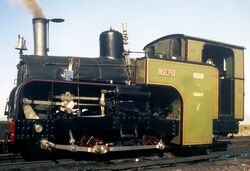 Ralph
Number: 7
Built: 1923
Withdrawn: 1990
Configuration: 0-4-2T
Ralph, previously Ralph Sadler, after the Snowdon Mountain Railway's consulting engineer, from 1964 to 1977, and Aylwin from 1977 until October 1978, is the seventh engine on the Snowdon Mountain Railway.
Bio
Alaric is based on Ralph, who was manufactured by the Swiss Locomotive and Machine Works at Wintherthur, Switzerland in 1923.
As of 1990, Ralph has been withdrawn from service, his boiler has been scrapped, dismantled and stored off-site. It has been stated that it is very unlikely that the engine will be repaired and resume service.
Livery
Ralph was painted black with an olive green cab.
Gallery
Ad blocker interference detected!
Wikia is a free-to-use site that makes money from advertising. We have a modified experience for viewers using ad blockers

Wikia is not accessible if you've made further modifications. Remove the custom ad blocker rule(s) and the page will load as expected.