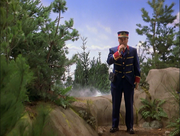 Rainbow Ridge was a rock-type platform that Mr. Conductor travelled to in search of the source of gold dust. He thought it was the windmill where he needed to find the clue, though he became lost.
Trivia
"Welcome to the Steamworks, my friend!"

This article is a stub. You can help by expanding it.