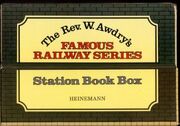 There have been several complete box sets of The Railway Series library by the Reverend W. Awdry. The first was released in the 1990s and named The Rev. W. Awdry's Famous Railway Series Station book box by Kaye and Ward Ltd and Heinemann. Further box sets were released by Egmont and Random House in 2005 with Thomas the Tank Engine: The Classic Library. To mark the Reverend W. Awdry's centenary in 2011, Egmont re-released the box set as Thomas the Tank Engine: The Centenary Library. In 2014, it was released for the 70th anniversary, and is called Thomas the Tank Engine: The Classic Box Set.
The box set was also released as a complete set in Japan.
Books
Trivia
The 1990s box set artwork was made by Clive Spong.
On the box of The Centenary Library, Henry is given his number in early illustrations.
Gallery
Ad blocker interference detected!
Wikia is a free-to-use site that makes money from advertising. We have a modified experience for viewers using ad blockers

Wikia is not accessible if you've made further modifications. Remove the custom ad blocker rule(s) and the page will load as expected.