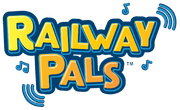 The Railway Pals merchandise range are a part of the My First Thomas Series. By pressing each character's button on their front will make them talk and sing, to help develop motor skills. The models have light, sound and specially-recorded dialogue and phrases.
Engines
2017
2018
Sets
2017
Destination Discovery (includes Percy with steam detailing)
Mountain Adventure (includes Quarry themed James and Owen)
Rescue Tower (includes Rescue themed Thomas)
Packs
2017
Rescue Pack (includes Rescue themed Percy, Harold, and a truck)
Birthday Pack (includes Birthday themed Thomas, Rosie, and a truck)
Track Pack
2018
Nia Animal Pack (includes Nia and two animal trucks) 
Yong Bao Animal Pack (includes Yong Bao, a panda truck and a tiger truck) 
Trivia
All of the characters are the exact same size, all being depicted as 0-4-0's.
The prototype Thomas has incorrect red windows.
This is the first merchandise line to feature Rosie in her new cherry red livery.
Nia's prototype has incorrect red wheels.
When the line launched the button glowed yellow when the character talked and sung. But later releases of the toys changed to a red glow.
The 2018 wave of characters do not have the "Railway Pals" name on their boxes, nor do they have the same logo on the battery compartment. They are however still part of the range.
Emily has Henry's whistle sound.