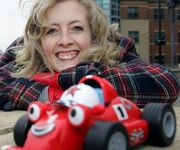 Rachel Dawson was an episode writer for Thomas & Friends. She has also written for various other children's shows such as "Mike the Knight", "Roary the Racing Car", "Everything's Rosie", "Driver Dan", and "Postman Pat".
Episodes
Trivia
She, María Sánchez, Pasi Ruohonen, Rob Rackstraw, Tim Whitnall, Simen Sand, Wayne Jackman, Dan and Nuria Wicksman, Danny Houtkooper, Kerry Shale, Aku Laitinen and Antti L. J. Pääkkönen have all worked on "Roary the Racing Car".
"Welcome to the Steamworks, my friend!"

This article is a stub. You can help by expanding it.