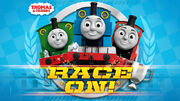 Race On! is a 3D game application developed by Mattel and Animoca Brands, available to download for free on iTunes and Google Play. It also offers In-App purchases.
Description
Play as your favorite, iconic number 1 blue tank engine, Thomas, and help him on the Island of Sodor's railway as we celebrate his 70th anniversary! Full steam ahead!
Join Thomas and his friends as they explore the Island of Sodor! Test your wits and reflexes while helping Thomas, Percy, Gordon, Henry, James, Edward, Emily and Diesel race their way around the island. Be quick so you don't lose power!
Visit places, complete missions, and gear up for the grandest locomotive adventure! Everyone's favorite engine is ready to take you on a thrilling ride across Sodor! All aboard!
FEATURES
Take Thomas the Tank Engine with you everywhere - on your mobile!
Interact with lively engines racing along the railway lines.
Play with your family and friends in the 2 Player mode.
Complete missions to unlock tonnes of extra goodies such as buildings, engines, and coaches!
Play as Thomas and his engine friends!
Want to boost Thomas and his engine friends? Here's how to play:
Arrow button: Swipe in the correct direction.
Star button: Tap continuously to speed up.
Number buttons: Tap them from the smallest to the largest.
Circles and path: Drag the button along the path until it reaches the other circle.
Game Levels
Characters
Goofs
Ulfstead Castle is described as the Duke's home.
Diesel and Ivan are wheeshing steam and making chuffing sounds.
Edward is missing his siderods.
James' wheels are grey and he has only one lamp iron.
Donald and Douglas are missing their tenders in the 'Tidmouth In Winter' level.
Ashima has Stepney's whistle at a lower pitch.
Gallery
Trailer